Do you wish you had an MBA in Facebook Marketing?
Do you recognize the effectiveness of social media in business and would like to sharpen your skills? Well there is a way to do that.
As a marketer, you already know that Facebook has an audience of over 750 million people. Half of those people are active on Facebook every single day.
Perhaps you also know that 250 million of them are taking Facebook with them wherever they go – on their mobile devices such as iPhones, Blackberries and Androids.
Like you many businesses are aware of these numbers, and they too have a presence on Facebook.
But not all of them are leveraging Facebook properly to create new opportunities and to generate new leads. If you're on Facebook but haven't figured out how to use it to benefit your business brand, you don't have to remain in the dark.
What can I do?
You can attend the best live Facebook Education Conference ever put together and obtain the equivalent of a Facebook Marketing 'MBA' (where else can you get this kind of training?).
It is the Facebook Success Summit 2011 featuring 19 experts whose goal is to teach you everything you need to know about the ever-changing world of Facebook Marketing, including how your business can benefit financially from having a presence on Facebook.
Where will this take place?
The conference is completely online, which means that you don't have to spend a small fortune on travel costs, hotel expenses and meals. You can attend the entire conference from the comfort of your home, using only your computer to watch, listen and participate.
When is it happening?
The conference will be spread over four weeks starting October 5th to October 25th. All sessions will be recorded and transcribed so you don't have to worry if you miss a session or two (or more!) – you'll have access to all sessions for a full year.
Who will be presenting?
A remarkable line-up of Facebook experts and business professionals has been put together to help marketers and business owners to better engage customers, gain more exposure, grow their brands, measure Facebook ROI and much more.
They include Guy Kawasaki (author of Enchantment), Mari Smith and Chris Treadaway (co-authors of Facebook Marketing), Paul Dunay (co-author of Facebook for Dummies), Michael Stelzner (founder of Social Media Examiner), Jesse Stay (author of Facebook Application Development for Dummies), Jay Baer (co-author of the NOW Revolution) and experts from Intel, Petco, Intuit, Applebees, and more!
Why should I attend Facebook Success Summit 2011?
Could you use some guidance and some fresh ideas?
From this conference, you will learn how to quickly implement effective Facebook marketing techniques in a fast-changing environment.
You will learn how to attract a large number of customers and you will gain a huge competitive edge that will make you stand out. You will also learn how to measure the performance of your Facebook marketing activities, to ensure that you're achieving their full potential.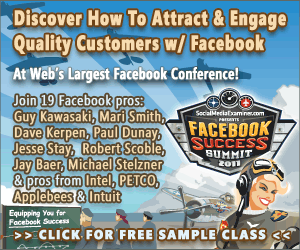 What can I expect to learn?
Take a peek at some of the informative sessions that will be presented:
Five Steps to a Successful Facebook Marketing Strategy

Facebook in the Post-PC World

Gaining Insights and Sales With Facebook Commerce

How to Build and Manage a Thriving Facebook Community

10 Ways to Bring the Power of Facebook to Your Website

Killer Integration of Facebook and Email

How Big Business-to-Business Brands Are Leveraging the Power of Facebook (Panel Discussion with Intel and Intuit)

How Big Consumer Brands Are Using Facebook (Panel Discussion with Applebees and PETCO)

How to Build a Loyal Fan Base Using Facebook Promotions (Panel Discussion with Wildfire and Strutta)

How to Successfully Measure Facebook Marketing Campaign
Attend free class, register and save 50%
Just like last year, space is limited and the event will likely sell out fast. If you sign up soon you will save 50%, and as an affiliate partner I will earn a little money on the side too – so I do appreciate your support in advance. If you're ready go here to register.
Otherwise, if you wish to get a taste of what to expect before signing up, why don't you grab a free class titled 'Facebook Newsfeed Optimization: How to Dramatically Increase Your Visibility and Engagement'. The class was taught by Mari Smith at last year's conference and has a $59 value!
I hope you find that this conference is a good fit for you. If it is, I look forward to connecting with you later this Fall!
**If you liked this article, please retweet, comment below or share with your friends. Thanks 🙂