What are your business goals for 2012?
How do you plan on using social media to increase your chances of success?
Much has been said about big companies such as Starbucks and Intel, and how they harness social media to drive massive traffic to their sites and subsequently generate enormous sales.
But when small business owners are asked about social media, most of them have no idea how to use it in a practical way that can impact their business goals.
Social media is word-of-mouth marketing
Not knowing how to leverage social media to achieve business goals is a huge problem for small businesses, since they typically get most of their customers through word-of-mouth referrals.
What they probably don't realize is that social media is essentially, word-of-mouth marketing. The only difference is that those customer conversations that used to happen in person have moved to the Internet where they are easily enabled by social media.
Savvy entrepreneurs get this.
Take Curtis Kimball for example. In the Mission district of San Francisco where he is known as the Crème Brulee Man, Curtis uses Twitter to advertise his daily specials, 'secret menus' and specific locations where his cart will be parked.

Curtis who says he has no marketing budget, currently has more than 20,000 followers, many of who literally follow him around from neighborhood to neighborhood to get a taste of his delicious custard treats.
Then there's Umi Sushi Restaurant also in San Francisco.  They tweet about their fresh fish with colorful, hunger-inducing descriptions that pull customers off their couches and into their store.
According to co-owner Shamus Booth, they receive an average of five new customers a night from Twitter!
What about you? What if you could get even five new clients a week! How would that impact your business and even your lifestyle?
Identify your goals
If you're a small business owner or a professional marketer working for a small company, some of your 2012 goals might be to:
Increase exposure for your brand
Find the right audience and engage them in the most effective way
Obtain quality business leads
Increase traffic to your website
Reduce your marketing costs
Convert your social media activities into sales
If that sounds like you, then you should consider attending Small Business Success Summit 2012.
What is it about?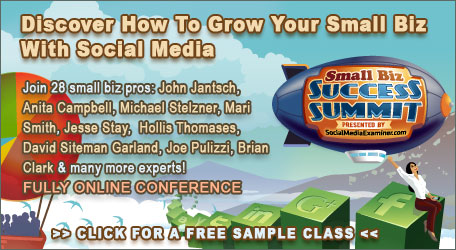 Small Business Success Summit is a brand new online event brought to you by Social Media Examiner and designed exclusively for smaller brands with the intention of teaching them how to use social media to achieve big business goals.
The summit will take place during the month of February 2012. When you attend the summit you will learn:
The best and newest ways to market your small business with Facebook, Google+, blogging, LinkedIn, Twitter and video marketing
How to create a smart social media marketing plan
How to sell your products and services with social media
How to creatively grow and engage a loyal social media following
How to integrate social media with your other marketing efforts
How to track and measure your social media ROI
How other small businesses execute successful social media campaigns
And much more.
Social media lessons from small business experts
All the speakers are themselves small business owners who are deeply entrenched in social media marketing. They include:
John Jantsch from Duct Tape Marketing
Anita Campbell of SmallBizTrends
Jesse Stay, author of Google Plus for Dummies
Hollis Thomases, author of Twitter Marketing An Hour a Day
Michael Stelzner, founder of Social Media Examiner
David Siteman Garland of The Rise to the Top.com
Joe Pulizzi, founder of Content Marketing Institute
Brian Clark, founder of Copyblogger
Ramon Ray of Small biz Technology.com
Lee Oden, founder of Top Rank Online Marketing Blog
Amy Porterfield, co-author of Facebook Marketing All-In-One for Dummies
Ed Gandia, co-founder of International Freelancers Academy,
Marcus Sheridan, founder of The Sales Lion
And many others.
Sample classes
The sessions are carefully customized for small business owners. Here's a sample of some of the sessions you'll be able to attend:
Putting social to work: How to rapidly grow your fans, your prestige and your small business
From social to sales: 4 steps for growing your small business revenue
Getting past start: How to move your social media marketing into motion
How small businesses are growing with Facebook (case study)
How to develop a raving small business fan page for your brand
10+ Google Tips for every small business owner
Mastering LinkedIn for small business success
Building your small business with blogs
Because this is a fully on-line conference, you don't have to worry about missing a session. If something comes up and you're not able to attend, transcripts and recordings will be provided for free on the same night!
Justify your expense
Are you worried about getting funds to pay for the summit? It's a valid concern.
Being a small business you want to make sure that the investment is worth your while. As you ponder over your decision, keep in mind that:
Tickets are currently on sale for 50% off until Friday, November 18th. Click here for more details.
If you land just one or two customers as a result of attending the summit, it will have paid for itself.
You really can't afford not to give social media a chance to grow your business – As you saw in the two examples, social media is where your potential clients are located and you want to make sure that they're aware of and connected to your business.
The convenience and affordability cannot even compare to a typical convention.
There will be plenty of networking opportunities via Twitter and LinkedIn – you will have access to thousands of people who are expected to attend.
Even if you don't need the summit for yourself, it would make a very special Christmas gift for a friend, son or daughter who just started a business, or who is in business but not familiar with social media marketing.
Over to you
So now that you know what's at stake for your business are you ready to take the next step?  Will you make the right decision to move your small business forward in 2012?